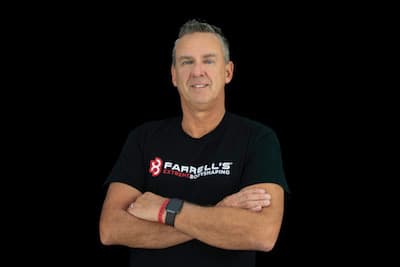 Mark Wright
Mark's Journey with Farrell's started in 2018. At the beginning of his 10 week Challenge he weighted in at 197 with a Body Fat of 26.3. At the end of his 10 week Challenge he weighted in at 182.2 with Body Fat of 23.6 losing 14.8 pounds and 2.7 percent Body Fat. Mark gained Increased Endurance, lower blood pressure, accountability and a healthy nutritional lifestyle.
Mark's Experience with Farrell's - After his first ten weeks Mark became a coach to help guide, inspire and motivate new students to Farrell's. He has Mastered Kickboxing and Strength Training Techniques with the training provided by Farrell's. He was trained to be an "extreme" Coach to help stretch our students into new healthy habits.
Mark is a Tax Accountant with an MBA and is Certified Public Accountant in Florida and Illinois and is certified in CPR/AED.
Fun Fact about Mark - He has a passion for music as a singer, director and worship leader and at times will be heard singing out loud with the music during fitness classes. He also believes Seinfeld and The Andy Griffith Show are the best shows of all time.