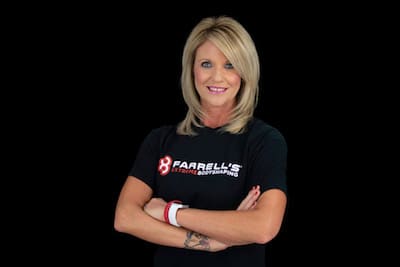 Raeann Wright
Raeann's journey with Farrell's started in 2016. At the beginning of her 10 week Challenge she weighed in at 155.4 with a Body Fat of 31.7. At the end of her 10 week Challenge she weighted in at 145 with Body Fat of 25.7 losing 10.4 pounds and 6 percent Body Fat. Raeann gained Confidence, Accountability, Motivation, Dedication, and a New way of Living a Healthy Lifestyle.
Raeann's Experience with Farrell's - After her first ten weeks Raeann became a coach to help guide, inspire and motivate new students to Farrell's. Since then she has Mastered Kickboxing and Strength Training Techniques with the training provided by Farrell's. She was trained to be an "extreme" Coach for the past 3 years to help stretch students to new healthy habits. She was a Kickboxing and Strength Training Class instructor for the past year.
Raeann is a Fitness Professional with a Certificate in Group Fitness Instructing, certified in CPR/AED and is a licensed cosmetologist in Illinois and Florida.
Fun Fact about Raeann - When she is not managing, coaching, instructing and running races she is helping others not only feel good on the inside but making them beautiful on the outside with her other passion of cosmetology.